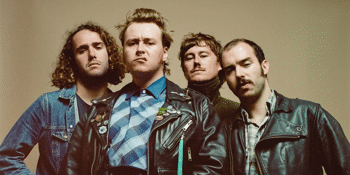 POSTPONED - FLIGHT TO DUBAI
w/ Nicholas Connors + India and The Journey to The East
The Cambridge - Warehouse (Newcastle, NSW)
Fri 17 April - Thu 1 October 2020 8:00 pm
Sydney garage-rockers Flight To Dubai return with energetic and heart-on-sleeve single 'Firefighter Lady' (release on February 28th, independent) from upcoming EP 'Strife'. While retaining true Flight To Dubai form the new single sets apart their last offering 'Crycentennial Man' a Devo-esque quality to a redeveloped proto-punk / rock n roll fusion of soaring opening vocals and busy signature hooks.

Firefighter Lady looks at the highs of a relationship and the self-sacrificial nature of an anxiety-riddled dependency. The energetic and raw view on love, highlighting the ever-present fear of loss and the pain in replacement passion and authority.

East coast tour commences 20th March covering QLD/NSW/VIC/TAS, including appearance on Weird Place Fest 4 (Melbourne).