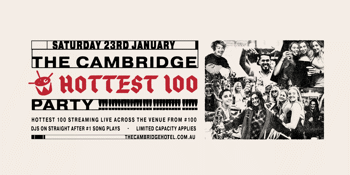 The Cambridge
Hottest 100 at The Cambridge
The Cambridge Hotel (Newcastle, NSW)
Saturday, 23 January 2021 12:00 pm
Click here for the ticketing map.
Your annual home of the Hottest 100.
We're throwing a party to celebrate a huge year in music with the triple j countdown playing across the entire venue from #100.
After the #1 song plays out, we'll be turning down the lights and partying late into the evening with DJ's on until close.
*You must arrive by 6pm to secure your table booking*
3, 2, 1 - GO.