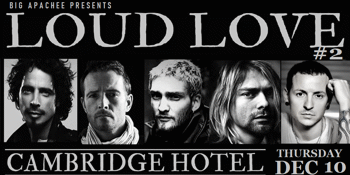 BIG APACHEE presents
CANCELLED - LOUD LOVE #2
The Cambridge Hotel (Newcastle, NSW)
Thursday, 10 December 2020 7:00 PM
Presented by Big Apachee LOUD LOVE returns to The Cambridge Hotel on Thursday the 10th of December.
A tribute to the fallen heroes of rock, LOUD LOVE #2 will be raising much needed awareness and funds for mental health, depression and suicide prevention.
Featuring an all-star lineup of legends and locals loud love promises to be a night full of love and loud music.
LIVE. LOUD. LOVE!

Tickets available now from BigTix.

Strictly limited capacity.
This event will sell out in advance so don't wait.
Love from,
Big Apachee