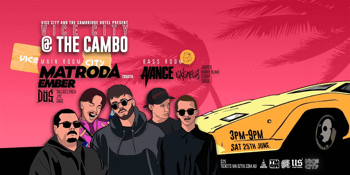 VICE CITY
The Cambridge Hotel (Newcastle, NSW)
Saturday, 25 June 2022 3:00 pm
Welcome to Vice City
Newcastle's freshest day party running on Saturday June 25th. Vice City is the ultimate combination of music, good vibes and entertainment.
WELCOMING MATRODA
The 27th top producer in the world is debuting Newcastle while on his tour. Matroda had more than 30 performances on his tour (EDC Las Vegas, Day Trip Festival LA, Space Club Miami, Treehouse Miami ...), and 30,000 tickets were sold!
YOU WONT WANT TO MISS THIS!
Tickets- $25
All rooms are open from 3pm-9pm
—————————————————————————
LINEUP
Main stage
- MATRODA (Croatia)
- EMBER
- DOS
Main room support
Tallas Lynch
JYC
SAGE
SIDEROOM (Front Room)
- AVANCE
- EXEMPLR
supports-
JASPER
Harry Blake
STAXX
TOOSE
LOCALS TAKEOVER (Front bar)
Didwatnow
Mac child's
Adam tucker
Neon motion
Dan Hallett
—————————————————————————
*No Dress Code (Inclosed shoes only)
*Smoking area available
*Venue has the right to refuse entry
*If your birthday is in JUNE hit us up for free entry
SPONSORED BY REDBULL
Join us at our Newcastle launch for an experience you'll remember forever.