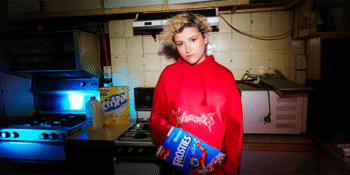 Sunroom and New World Artists Presents
Hope D
With Teddie and Flamingo Blonde
King Street Warehouse (Newcastle, NSW)
Friday, 8 December 2023 7:00 PM
Brisbane's brightest queer breakout artist since The Veronicas, Hope D's camera roll looks something like this: nuggets, nuggets, bagel, girlfriend, Falls Festival crowd shot, ramen, dogs, dogs, beers, a selfie with the couple who got engaged at one of her gigs, Groovin' the Moo dressing room, nuggets, girlfriend, blurry live photo timestamped 3:06am, [redacted], nuggets.
It's been over five years since Hope got her start posting YouTube videos which featured her live-looping set-up and teenage bedroom, plastered with beer coasters and gig tickets. Her confessional coming-of-age anthems have resulted in successful gambits in the Queensland Music Awards and triple j's Hottest 100 Countdown, where her song "Second" was ranked #69 in 2021 (nice).
While her audience has grown exponentially since the days of playing to her parents and the family dog, Mr Schneebly, Hope remains bashful on stage, now joined by her five-piece band. Her debut album, "Clash of the Substance", is a time capsule of battles won, lost and drawn in the arena of her early twenties. Due out on February 10, and followed by a string of national tour dates, the record contains an important reminder for listeners: never let growing up get in the way of a good story.