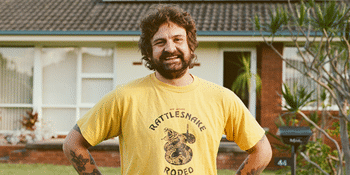 Space 44, Love and Rent & Select Music presents...
Adam Newling - Dorothy Painted Portraits Regional Tour
King Street Warehouse (Newcastle, NSW)
Friday, 12 January 2024 7:00 pm
I'm releasing my new EP Dorothy Painted Portraits, and to celebrate I'm gonna be coming down the coast this summer to sing all my favourite songs in some real special places.
Albums will be delivered to the nominated email/address on release week. Physical items include flat rate Australian shipping. Albums can only be delivered to Australian addresses/customers. Digital albums cannot be refunded after they are fulfilled.
For any customer questions regarding delivery of the album you can contact Space 44 customer care via
millie@space44.com.au
. To ensure you receive your purchase, ensure your delivery and contact details are up to date as you submit your order.
With your purchase of either Vinyl or Digital Download, you give consent for the ticketing provider to share your data with the merchandise retailer in order to process your order. Your data will remain confidential and not used/sold outside of your transaction.